Paris Las Vegas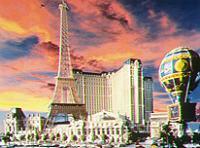 Paris-Las Vegas
3645 Las Vegas blvdS
Las Vegas
NV 81909
(+1) 702 739 4111
www.paris-lv.com
Location Centre Strip; attached to Ballys, next door to Planet Hollywood and dead opposite the Bellagio. Should this not be enough for you there is a monorail to the MGM Grand. Location! Location! Location! You had better believe it - this is A1.
Theme Well its Paris and it is probably the best themed resort on the Strip, with a 1/3 scale Eiffel tower and Arc de Triomphe, the Opera House, Parc Monceau and the Rue de la Paix they have done marvels. The themeing does not end at the door, all of the security staff dress as gendarmes and staff will use a couple of French words every now and again. The floors are cobbled and French styled street lamps are present, there are posters that appear not to have been taken down properly, just left on pillars like in France. The only way in which you know that you are not in France is the cleanliness of the place and the friendliness of the staff. The one exception being the Spa where the staff are rude and disorganized.
Attractions Well I guess I have listed most of them above. Just walking through this delightful complex is an attraction on its own, you can go up the Eiffel tower for about $6 but we didn't want to leave the casino floor.
Pool The pool here gets some bad reviews and I think that this is unfair; it's a standard type of pool, quite big in the shadow of the Eiffel tower with nice plants. Sure there is no lagoon and no waterslides but I think it's classy and nice and usually kid free.
Shows and Entertainment Paris LV has been rather unlucky with the shows firstly Ooo La La a topless reviews show then the producers which closed very early however as of March 2010 they have managed to sign Barry Manilow who regardless of what you think of his music is an amazing show man. Anthony Cools has a show he is an adult rated Hypnotist this show is quite new and the theater only holds 220 people so you will be close but I don't know how good it is.
Dining As you would expect the grub here is top notch. There is a brilliant take away coffee shop which we had to queue up for ages but well worth it for fresh pastries and coffee only beaten by the Luxor. There is a first class buffet (B: $13.99 L: $17.99 D: $24.99 Sunday Champagne Brunch $24.99) we looked and drooled but did not eat due to the long queue and my lack of patience. The Eiffel Tower restaurant is one of the most expensive in town, the food is great and the view is amazing, the staff are wonderful and the ambience perfect, this is our favorite Vegas fine dining establishment. There is a very good 24hr café though quite expensive and a further selection of top quality but expensive restaurants. Everything culinary here has good reviews and prices to match.
Gaming With 85,000sq ft of casino space it doesn't seem as big as many other, smaller casinos; it is easy to navigate partially due to you being able to see one of the legs of the Eiffel Tower wherever you are. All of the tables have wrought iron look canopies and the whole feel around the tables is nice. There are 2,500 slots of all denominations and over a hundred tables with minimums at $5 and plenty of them. There is a very large selection of nickel machines, which surprised me, but they do feel a bit squeezed in and as a result it does get a little cramped when the casino is busy. It is cool being able to play on a slot or at a table and see the legs of the Eiffel tower coming through the roof.
Drinks service Stunning, we got some of the best drinks service here, quick and strong, and they kept flowing and flowing. Helping us to prove what we had secretly always known; gambling and large amounts of alcohol are a great mix.
Overall A well themed luxury casino with a great range of games, good staff and great food. The atmosphere is easy and relaxed; we love it.
Good points The theme, you can get all of the benefits of going to France by coming here and not having to suffer the bits I don't like.
Bad points The Staff in the spa were terrible and the machines in the nickel section can feel a cramped and everything seemed very expensive.
Top Tip Book if you want to eat at Eiffel its expensive but worth it, you can cut through Ballys to get to the Monorail station.
Resort Reviews Tips and Tricks Specials