The Mirage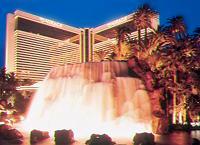 The Mirage
3400 Las Vegas Blvd South.
Las Vegas
NV89109
(+1) 702 791 7111
Mirage Las Vegas
Location Sitting in the centre of the Strip with Treasure Island on one side and Caesars on the other, facing Harrah's with the Venetian only a short stroll, this is a great place to be
Theme A tropical paradise. Steve Wynn (Casino King and founder of the Mirage) bought the name off of another Strip hotelier who owned what is now called the Glassed Pool Inn and built this industry standard setting mega resort. The theme works very well from the lake on the strip side to the palm trees and mock rain forest and waterfalls inside to the tropical lagoon swimming pools not to mention the impressive volcano on the Strip side.
Rooms I have only stayed in a penthouse suite, this was on my honeymoon and this was truly amazing it contained a bar, huge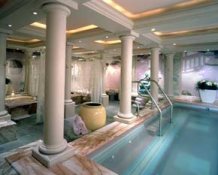 living room, bedroom, bathroom with whirlpool tub and shower separate toilet and dressing room. It is probably the best room I have stayed in the furnishings were great, remote curtains and pop up TV at the foot of the bed. The normal rooms are meant to be luxurious if a little below average in size Mirage are refurbishing their standard guest rooms starting with the low floors this should be complete in 2008.
Attractions The Mirage is stacked full of non gaming attractions most of them free, to start with you have the volcano that erupts every 15 minutes after dark until midnight; this is amazing, the cost to run is rumored at $100,000 per day in fuel. The fish tank behind the check in desk is huge containing a good selection of brightly coloured aqua marine fish and even a few sharks. Then there is the dolphin habitat and Siegfried and Roy's Secret garden (Admission charge) showing off the famous white tigers and lions. Alternatively you can see them for free within the hotel's glass exhibition cages. There is a lovely tropical rain forest in a glass atrium that you can walk through with birds singing and waterfalls to boot.
Pool Up there with the best of them a huge tropical lagoon with bays and waterfalls and even a small slide. It good drinks service and attentive staff, there is an area where they have all day parties tat requires an admission fee.
Shows and Entertainment The newest of the Cirque De Soleil shows is at the Mirage "LOVE" in a purpose built theater, a celebration of the music of the Beatles. I have not been (I don't like the Beatles music) but this does seem to get more good reviews than bad and lets face it there is no bad CDS show. Danny Gans has been headlining The Mirage for years he has been voted Entertainer of the year and one of the finest singer-comedian-impressionists in the World.
Dining Cravings the buffet at the Mirage is one of the buffet greats (B: $12.50 L: $17.50 D: $22.50 Sunday Brunch Champagne$22.50) the food is good and the wait is not too bad. The Sunday brunch, although not quite up to Bally's, represents real class and good value. The Caribe Café is our favorite 24 hours casino coffee shop and as you would expect The Mirage has a number of other fancy restaurants including a noodle bar, gourmet pizza, pasta house and sushi bar. I was told by a guy from New York that Carnage the Deli in Mirage is the best in Vegas and roasted bean is up there with the Luxor coffee company supplying some of the best coffee in Vegas. Mirage also has Samba a sort of Brazilian buffet where the waiters walk around with skewers of BBQ mean and you choose what you want, this had great reviews but recently the quality may have dropped. All in all there is something for everyone here a great variety at all price levels.
Gaming 95,300 sq ft of gaming space with the sounds of squawking birds and a tropical rain forest in the middle of the casino floor, this does carry the feel of the theme. The casino is a little dark, not as dark as old school casino's more of a relaxed dim lighting effect. There are 2,200 slot machines and nearly 100 tables with a dozen roulette wheels. Table minimums start at $5 but there aren't a huge number of tables with minimums this low and it's only at slow times. The Mirage has a great poker lounge which is frequented by amateur and high rolling players alike. For the market that this Casino is aiming at they have a good selection of nickel and quarter machines. All in all this is a very nice place to gamble.
Drinks service I found the drinks service to be good, strong drinks and quick service maybe not quite as good as when Steve ran things but still good.
Overall The Mirage is an upper class relaxed joint with patrons to match. However being a low roller does not make you feel unwelcome or uncomfortable. Traditionally the crowd here has been well heeled slightly older folk but this seems to have changed and there are many young rich people here to party, both sets f people seem to get on very well. The atmosphere is very pleasant and non gaming attractions aplenty. All in all you can not fail to enjoy your time at the Mirage. Mirage is probably my favorite resort in Las Vegas.
Good points The whole feel of the place is just well nice it's got enough happening to give it an exciting vibe but not so much that it takes the relaxation away. The mix here is probably better than anywhere else on the Strip.
Bad points To be honest it is near impossible to fault The Mirage, its not shaped like a castle and doesn't give away much free because it doesn't have to. The only thing is that if you are not staying here you have no chance of getting into the impressive pool but I guess that is fair enough.
Top Tip When booking look for offers that include free tickets to see Siegfried and Roy's secret garden then you can see the dolphins and tigers for free.