Mandalay Bay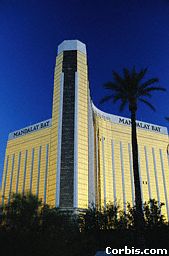 Mandalay Bay
3950 Las Vegas Boulevard South
Las Vegas
NV 89119
+1 (702) 632 7777
Mandalay Bay Las Vegas
Location This is the first or last resort on the Strip depending on how you look at it. It overlooks the airport and out towards the mountains. Its nearest neighbour is the Luxor and that is about a 10 minute walk. Luckily there is a monorail that links you to Luxor and Excalibur; this makes the location of Mandalay Bay the ideal resort for people who want easy access to the action of the Strip without being right in it.
Theme Tropical Island is the theme here, with a swimming pool the size of 9 football pitches complete with lovely palm trees and jungle type foliage. Pseudo bird and animal sounds as you enter the property along with loads of water features and a classy beach resort feel.
Attractions Shark Reef has been voted the best tourist attraction on the Strip. It is similar to a Sea Life centre with a walkthrough reef containing real sharks. The pool is worth a look, and Mandalay Bay is now up there with Caesars and MGM as far as being a big shot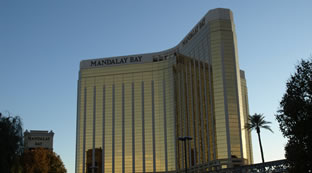 boxing venue. I did not see an amusement arcade, nor do I expect there to be one hiding in a nook or cranny as you get the feeling this is a resort for grown ups.
Pool Amazing truly amazing its hard to believe its man made, if this is not the best pool in Vegas its very close. It has waves a real beach, waterfalls, lagoons you name it this pool has got it.
Shows and Entertainment Mandalay Bay has the hit Abba musical Mamma Mia as its only production show, baring in mind how far up the Strip it is this is quite surprising. However Mandalay Bay also has the Mandalay Bay events center and arena and is host to many huge names as well as sporting events in particular boxing.
Dining The Bay Side Buffet (B$15.99, L$19.99, D$26.99 champagne Sunday Brunch $23.99) has a stunning view over the marvellous pool. Better still the food was great including a mountain of smoked salmon that we rapidly mined. This buffet feels up market, the food is probably not as good as the Aladdin but the setting is great and so I think this buffet more than justifies its high price tag. There is not only a 24hr Coffee shop here but also a 24hr noodle bar; great for those of us that craves sweet and sour at 6am!! There are another 8 or so more expensive restaurants including Trattoria Del Lupo - a very expensive Wolfgang puck restaurant, several very expensive seafood eateries, a couple of South Asian places to keep eating in line with the theme and Red Square the only Russian restaurant in Las Vegas.
Gaming 135,00sq ft including 2400 slots from a nickel upwards and loads of table games Mandalay Bay has a spacey, airy and refreshing casino. Not feeling bustled or cramped is noticed and enjoyed here. Although there are a lot of slots here, there are not loads of nickel machines here, Mandalay Bay is aimed at upper middle Californians and they are not too keen to attract too many low rollers like yours truly.
Drinks service The We played on nickel and quater machines here and did not find the drinks service as good as elsewhere. That said the drinks we did get were some of the best in strength - up there with the Las Vegas Hilton.
Overall A great resort it has everything great bars, great places to eat, great clubs, best pool in Vegas and nice spacious feel. This resort gives quality and expects quality back it captures a far number of the young rich beautiful people from LA.
Good points Amazing pool The tropical feel, the theme is done very well without being over the top and does make you feel very fresh and clean. Oh yes and rich!!!
Bad points Location it's great to get to from the airport or I15 from LA as it's the last casino on the Strip but it's a pain if you want to visit several casinos in one evening you need to have a car.
Top Tip Look around and you will notice that this is the Montecido from the TV show Las Vegas, watch out for Danny and big Ed.