Las Vegas Hilton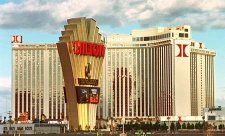 3000 Paradise Road
Las Vegas,
NV 89109
+1 (702) 732 5111
www.lv-hilton.com
Location It lies about ½ a mile East of the Strip behind the Wynn golf course. Contrary to what many brochures say it is not a short stroll to the Strip, you need a car - particularly at night. This Casino is designed for car drivers, the idea is that once you are here there is everything you need on site and you don't actually need to leave for anything.
Theme It has a "space quest" theme loosely based on Star Trek. The stage show of which is the main headliner here drawing "trekkies" from all parts of the World in to see. There are two casino's housed at the Las Vegas Hilton, the smaller low roller "Space Quest" casino which gives you the feeling of gambling within a space ship. The main and much larger casino does not really have a theme although it does have a sort of Wild West bit with barrels as stools near the back before you enter the massive sportsbook. This casino plays host to many business travellers due the location of the Convention centre next door so you are not going to experience pirates or fire breathing dragons here. Though the staff do wear shiny silver "space" uniforms!!! This is the place where Elvis made his comeback, they had the opportunity to use this for so many themes and yet they choose to use someone else's legend this seems like a real waste.
Attractions There is a brass statue of Elvis as you enter the casino that represents the 837 sell out dates he performed there from 1969 up until his death in 1977. The Star Trek experience attracts thousands of visitors every year, making it one of the most popular shows in Las Vegas.
Pool Its a nice pool you could be forgiven for thinking that you are in Califonia like everything else here its nice but not over the top.
Shows and Entertainment Barry Manilow has been the headline act at the Las Vegas Hilton since 2004, we saw him in 2008 and he was brilliant. in 2010 he has left the hilton and gon to Paris Las Vegas this must be a real kick in the teeth for the LV Hilton and is sure to affect their trade. The do however have free wine tasting at the Fortuna bar each night and a variety of touring acts but at the time of writing no headliners.
Dining The Buffet of Champions (B$11.99 L $12.99 D$16.99 Sunday Champagne Brunch $16.99) is far better than this ridiculous name may suggest. If you are here it well worth a trip but does not warrant a special visit. There are several other restaurants to choose from including the Hilton Steak House, Margarita Grill - Mexican, Garden of the Dragon - Chinese, Andiamo – Italian as well as the compulsory 24hr coffee shop and a couple of other eating establishments. The food in the coffee shop is great and the portions big but the service we recieved in there was poor. You could stay a whole week and not have to eat the same type of food twice.
Gaming 105,500 sq ft in total housing over 1700 slots, over 60 tables and 7 roulette wheels. The smaller Space Quest casino was the one for us with lots of nickel machines, and a very fun theme as well as being almost deserted and probably the only casino on the strip where the bright light feels natural. It feels pretty cool to gamble whilst shooting through space. The main casino is a very serious affair apart from the "Wild West" barrel section mentioned above and minimums on weekdays are sometimes $5 but this does not last for the evening and definitely not weekends. This casino is aimed at the rich corporate client who is quite prepared and happy to bet a minimum of say $25 per hand. I have been told that the casino gets very busy during conventions and limits can be very high. The main casino does seem to have a shortage of nickel machines though some can be found at the rear prior to entering the sports book. The sports book has to be the best in Vegas; it's like walking into a cinema, well worth a look even if you don't want to bet. This casino does give you a sort of Vegas feel of how it used to be loads and loads of lights all over the machines and a sort of luxury upmarket feel. This is probably the quietest casino in Vegas - even the usual holler from the craps tables was not noticed here.
Drinks service The Not bad the drinks took their time in coming but the strength and quality of my gin and tonic seemed higher than many other freebies I got in Vegas. You do get the feeling that you would stand out if you got drunk here. It would not be pleasant experience you feel you may get a telling off similar to one you may have received at school.
Overall A nice pleasant place to gamble for those who do not like the gimmicks that seems to be part and parcel of almost every Strip casino. It is a car ride from the Strip but there is ample parking and it is well worth a visit if for no other reason to see where Elvis filled the showroom for 8 years selling every consecutive date out.
Good points It never seems to be too busy andI liked the "space quest" casino it was real fun; light and airy a refreshing change
Bad points It has to be location if this was on the Strip it could probably contend with the best of them but now if you took away the convention centre and the Star Trek exhibition it would probably be empty.
Top Tip Join the players club you usually get a 241 for the buffet here.