Harrah's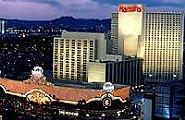 3475 Las Vegas Boulevard South
Las Vegas
NV89109
+1 (702) 369 5000
www.harrahslv.com
Location Harrah's is right on the Strip; no long walk through colourful gardens or moving walkways here. Harrah's holds a very central position facing the Mirage and its wonderful volcano, with the Imperial Palace on one side and a short stroll to The Venetian on the other.
Theme Harrah's used to have a very distinctive theme of a huge Mississippi Paddle Steamer but that has gone in favour of carnival, a cross between Rio, New Orleans, Notting Hill and well, a sort of colourful African village. There are bright lights (unusual for Vegas NOT) loud colours, fountains and plants. It really is a merry and friendly little place with no ideas of grandeur just very comfortable and happy, even the dealers and change people seem to carry this theme inside them. Harrah's is very relaxed and you feel at ease straight away. This may be part the reason that it is such a big hit with Americans who I think must make up at least 99% of its clientele and whole lots of them repeat customers. I met a lovely American lady from Detroit at Las Vegas airport who was going home after her 45th visit to Vegas and had stayed all but one of them at Harrah's.
Attractions Well there are loads of performers wandering around with little trumpets and the like in the Carnival Court, which is good fun with a few shops selling junk loosely associated with a carnival. Carnival Court also gives free live performances all day underneath what appears to be a very large and colourful fabric covered may pole with big bar and an always empty dance floor. If you feel the need to do "agado" or relive the 80's classic "birdie song" dance here is the place to do it.
Pool You do not come here for the pool its a big hole in the concrete its just not nice.
Shows and Entertainment It seems that comedy is the
entertainment of choice at Harrahs, the lovely inoffensive and very very funny Rita Rudner Headlines at Harrahs, she has been voted best comedian in Las Vegas for 5 years running so I guess it's not just my opinion. Mac King is another comedian at Harrahs and it's the home of the long running IMPROV.
Dining Well there is fair bit of choice here which includes the Fresh Market Square Buffet (B$13.99 L$16.99 D$21.99 Sunday Champagne Brunch $19.99) this is a good buffet for the price but the queues can be massive. The buffet is not up to say Aladdin or Bellagio but far better than many others that are higher priced. The garden café coffee shop is great, good value though the coffee is allegedly not the best, as with most other coffee shops its open 24hrs. There are several other gourmet restaurants including; The Range Steak house which supposedly is very good and great value, Asia – Chinese, Asian, Thai, Indian, and Japanese cuisine and Café Andreotti's - Italian.

Gaming When Harrah's changed the theme in 1997 they increased their gaming space by a third to 103,325 sq ft, it is showing its age now and is ready for new investment. Harrah's has over 2200 slots, about 60 tables and 8 roulette wheels - one with single zero's! There is a great range of nickel machines but the table minimums are $5 matching most of the other large casinos on the Strip. Its big, it's bright and its loud, to add to the brightness all of the dealers are lit up likes the signs you see on the strip. Hollering for wins and shouting at the tables seems to be encouraged. The dealers and change people are a happy, very friendly bunch this is a great place for the novice gambler to ply his trade. It is very easy to relax in this casino.

Drinks service Good, very good in fact. I had just sat down and was getting my wallet out when the cocktail waitress asked what I wanted. The drink arrived in less than 5 minutes and the second 15 minutes after that.
Overall A friendly place that really tries to put you in the party mood. This, along with a central location makes it a great place to play. For people who prefer a nice and relaxed attitude to gamble in, rather than the more serious affair where winning big bucks is far more important than the fun.
Good points Relaxed easygoing atmosphere this casino is not looking for the high roller market and as a result treats low rollers very well.
Bad points Can be very loud, too loud for some.
Top Tip Sign up for the Harrahs reward card you can use it here and the Flamingo next door, Ballys, Caesars, Paris and Rio.