Excalibur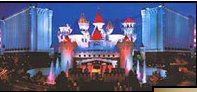 3850 Las Vegas Boulevard Sth,
at W Tropicana Ave,NV 89109
+1 (702) 597 7777
+1 (702) 731 7110
Excalibur Las Vegas
Location favored South End of the Strip sharing the busiest Intersection in the US with bridges to Tropicana and NY NY and an indoor walkway to the Luxor its good. This is a great location not only for the rest of the Strip but also for the Airport, I15 and Las Vegas factory shops.
Theme King Arthur and the Knights of the round table - a medieval castle affair. This is the biggest castle I have ever seen, supposedly based on one of German fairytale fame. You enter over one of many drawbridges guarded by statues of knights, some on horseback; a fanfare announces your arrival at the actual casino entrance (several hundred feet from the Strip) on the medieval travelator. As you enter the casino you will see court jesters and supposedly a fire breathing dragon, and although we have searched for it on many occasions we have never actually had the luck to see it.
Rooms The rooms are fair sized and clean and the basic rooms are dressed with "medieval" tapestries, there are showers and no tubs and they can seem a little dark. There are nicer remodeled room with 42" plasma TV's these are called widescreen rooms and reports say that they are very nice.
Attractions The magic motion machine is a 48 seat simulator showing various "simulations". There is a large arcade, in the basement I like to think of it as the dungeon where all the Children are sent ;) There is the court jester's stage upstairs giving a variety of free acts throughout the day.
Pool The pool was always small and horrible and full of kids, its been updated I have not seen it since but the area is not that large so I am guessing that its still small and still full of kids. If you are looking for a good pool scene its not here.
Shows and Entertainment Excalibur does surprisingly well here they have the tournament of kings which is Medieval knights jousting for your pleasure whilst you eat your dinner with only your hands. Thunder from Downunder an Australian Chippendale type revue for the ladies, Louie Anderson a "larger than life" comedian as well as guest headliners.
Dining A cheap and very busy buffet there are reports of it being very poor, I have only eaten breakfast here and I thought it was good. It's cheap, so you aren't going to get lobster but on the other hand it always has massive queues so it can't be that bad. (B $10.99, L $12.99 D $15.99 and Champagne Sunday lunch $14.99). There is the obligatory 24-hr coffee shop, a very good ice cream parlor and few snack bars as well as more expensive restaurants that I have not eaten in. They also have the WWF Nitro grill for wrestling fans and Wild Bills Saloon and Steakhouse, which has had good reviews.
Gaming A huge 123,944 sq ft of medieval fun including nearly 2,500 slots, 60 plus card tables and 7 roulette wheels. Many of the slots here seem to be of a medieval theme involving knights, dragons, fair maidens and the like. There is a very large selection of nickel slots here; well suitable for low rollers like me. Blackjack at $5 per hand, which is low for the strip and, a wonderful electronic roulette machine at 25c a go. The casino is a little dark keeping in with the old school casino but not too cramped although at weekends, probably because of the very low room rates, it did seem to get very crowded.
Drinks service, The drink service here was not bad but not good; we got served a lot quicker once we switched from nickels to quarters. I did get served very quickly when I was playing craps but seemed to be ignored whilst on video roulette.
Overall Excalibur is good value, has a good location and most of all is great fun. If you chose to stay here, and you could do much worse for your dollar, pay the extra $10 a night for a room view. The cheapest rooms face inwards giving you only a view of other rooms which some may like but most will hate.
Good points Great value for money, lots of low limit tables and fun atmosphere
Bad points You do get far more families here than other resorts, there are too many timeshare hawks!
Top Tip Make sure that you pay the extra (or bribe the check in clerk) to get a "view" room standard rooms look at other Excalibur towers.