Circus Circus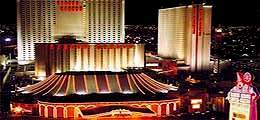 2880 Las Vegas Boulevard South
Las Vegas
NV 89109
+1 (702) 734 0410
CircusCircus Las Vegas
Location CircusCircus is at the very North end of the Strip, a fair walk from the major new and more exciting casinos. Travelling by foot at night particularly if you go North, can feel uneasy.
Theme Well I guess you have already spotted this, nestling at the very North end of the Strip a 200 ft neon clown; yup it's the Circus. The main casino structure is in the form of a giant big top and all the buildings have red and white stripes down them, you can see what they are getting at. The main casino continues this OTT theme with circus acts, swinging from trapezes or walking over tightropes 40 ft above you head. I am sure I saw a few clowns around both in and out of costume.
Attractions CircusCircus opened in 1968. It was the first casino aimed at the family market, so as you can imagine there are loads of attractions with many of them aimed at the little ones. Adventuredome including Grand Slam Canyon is now the only theme park available to the public on the Strip; MGM has gone corporate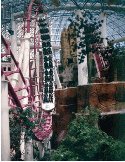 hire only. This has rollercoaster's, log flumes and all the usual thrill rides you would find elsewhere. All contained in a climate controlled massive glass dome. It represents great value at $16 for all rides all day. On the midway section (above the main casino floor) there is a state of the art video arcade as well as many fairground type stalls where you can win cuddly toys and the like. The centre stage gives free performances all day from 11am to midnight featuring animals, magicians, jugglers and the like, it's free and there is never more than 30 minutes between performances. Hacket's bungee jump also gives you the chance to jump from about 200 foot up with only an oversized rubber band to prevent you becoming pavement pizza.
Pool The pool is small and in a parking lot, it has horrible Circus Circus sun umbrellars and is full of screaming kids.
Shows and Entertainment CircusCircus is home to the largest permenant Circus in the world and they preform acts above the casino floor (see the James Bond film Diamonds are forever), there is no actual showroom here though and no shows ! There is the adventure domb but no proper shows, guess the kiddies would have to be cared for.
Dining Well the Circus Circus buffet is probably the most famous on the Strip, it is advertised everywhere as the cheapest on the strip and as feeding more mouths than any other. These are two facts that are most likely accurate, with dinner at just $11.99 lunch $10.99 and breakfast a mere $9.99 they are going to feed loads of people. The food is best described as boring and bland, I won't go any further than that. Reviews I have read in several places made me decide to eat elsewhere. The food cannot be that bad though or it would not get the custom it does. The fact it has some of the longest dining queues in Vegas makes eating here is no quick deal. Circus Circus also houses a selection of fast food joints including McDonalds, Circus Pizzeria, a couple of Deli's and a 24-hour coffee shop. Surprisingly Circus Circus also has two more up market restaurants Stivali (Italian) and The Steak House which is consistently voted the best in Vegas and friends that have eaten there feel its earn't its accolade

Gaming CircusCircus actually has two casinos so far apart that a monorail joins them. In total there is 110,979 sq ft of gaming space, which has crammed in it nearly 3000 slot and video poker machines, about 70- tables and 7 roulette wheels. This is very much a low rollers joint and has stacks of nickel machines and table minimums of about $2, unlike other Strip casinos there are loads of these low stake tables. The skyrise casino is quite small but is quieter, less smoky and has less children in it than the main casino but no circus acts to watch as you wait for the change woman to get round to you. The service level you receive here is not as good as many other casinos on the Strip as it is aimed at low rollers and you get treated that way. The main casino is very smoky and this can not be good for the hoards of noisy, excited and badly behaved children that are everywhere. It has also been reported (though I haven't seen it) that this casino is the chosen resort of the more unsavoury types who travel up from LA on US public holidays. Noticing that even the arcade has airport type metal detectors at the entrance there is probably some truth in this.

Drinks service Forget it. We were there 3 hours and never got a drink. Don't know I they are just stingy or are worried that a "minor" will steal it when you are not looking.
Overall CircusCircus is aimed at families and budget travellers and accordingly is exceptional value, you get a lot of facilities for the price. You do however pay for this by having to put up with hundreds of children and a very poor location. This is the entry level casino of the Circus Circus group which includes Mandalay Bay, Luxor and Excalibur. There are many far nicer places than this on the Strip, which will give you exactly the same odds.
Good points Um... very tricky. Guess it must be that there is a very large selection of nickel machines and that my sister hit a jackpot here. Rooms are also very cheap.
Bad points Equally hard. Either the terrible location or the clientelerollers which is strange for a resort that relies on this type of trade.
Top Tip If you are planning on travelling on the monrail allow extra time as its quite a hike through teh shopping archade to the station.