Ballys Las Vegas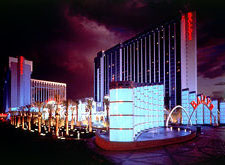 3535 Las Vegas Boulevard South
Between Sands Ave and E Flamingo Road
Las Vegas
NV 89109
+1 (702 ) 731 3311
www.Harrahs.com
Location The Imperial Palace is right in the middle of the Strip nestling between the Flamingo and Harrah's, dead opposite Caesars. It is a great location; you are maybe 5 minutes to Mirage and Ballys and 10 at most to Planet Hollywood, Bellagio and only slightly longer to the Venetian. This is a very happening part of the strip with the casinos right up to the pavement it's crowded and buzzing; this is Vegas baby.
Theme The hotel has an Oriental theme that starts with the Pagoda facing the Strip and an entrance of Bamboo and Jade. The theme continues with most of the female staff, many of whom appear to be oriental, dressed in a sort of Chinese style mini dress.
Attractions I did not see an amusement arcade or anything similar here but they have the Imperial Palace Auto collection. The collection is housed on a whole enclosed and separated floor of the garage car park. It is very good though not really aimed at car enthusiasts (there is enough to keep them occupied) but rather houses many cars owned by the famous. It includes one from Elvis and another by Liberace complete with candles on the wings. They also bring some of their impersanators on to the Casino floor to deal.
Pool The pool is poor, small, concrete and boring.
Shows and Entertainment Ballys has Don Arden's Jubilee as its main show, this a
Vegas old school feathers and rhinestone spectacular, this has been running for over 25 years and is a Vegas classic tickets can start for as low as $45. Jubilee has lots of dance and in old school Vegas tradition the ladies are topless. Ballys ahs the price is right live in the afternoon which is great fun and people picked from the Audience can win real prizes. Ballys also has guest appearances and concerts.
Dining I have only had coffee at the Imperial Palace and that was bad. The reviews I have read on the buffet are always bad yet my parents eat there and thought it was wonderful, maybe they were lucky or maybe they had low expectations, I certainly would not make a trip there just for the buffet. If you do wish to risk it the costs are B$9.99, L$11.99 D $14.99 and Sunday Brunch is $12.99 but sadly no champagne. It's often thrown in as part of a show deal. There is a good burger joint by the Sports book and whilst their fine dining offerings are not on par with many other resorts but the prices are adjusted to show this and value can be had particularly at Fireside which is very good value.
Gaming 75000 sq. ft About 1800 slot machines and about 35 tables and 3 roulette wheels. Minimum bet $5 per hand with $5 Craps, you can almost allways get tables at these levels. The Casino is noisy, crowded and cramped although cocktails get served to you very regularly. The staff are great, friendly and more than happy to help the inexperienced gambler particularly at Craps without making you feel stupid. There is a very good range of slots, many of the nickel machines variety. This casino is aimed at low to mid rollers.
Drinks service The Drinks service here is was allways good wherever you sat when IP was still independently owned and you get looked after non stop. Now its owned by Harrahs this may have changed.
Overall This is the Strip's little secret; cheap rooms in the center of the strip. The Casino is loud and cramped; the rooms are large but tired. No complaints, as over all you are paying the same as you would at a Motel 6 but getting a full service resort in the heart of the Strip. Stay there whilst you still can as it may well be one of the next great casino's to be turned to a pile of dust.
Good points Cheap rooms, cheap food and low limit tables
Bad points Check in is crowded and you have to walk through a busy casino to get to your room. Valet parking fills up at weekends. Smoky and corridors can be dirty.
Top Tip Go to the reward card booth and ask for fun book this will amongst other things give you free admission to the motor museum.