MGM Grand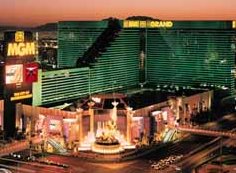 MGM Grand
3799 Las Vegas Blvd S
Las Vegas
NV 89109
+1 702 891 1111
MGM Grand Las Vegas
LocationYou have already hit the jackpot with this great location, sitting on the corner of the Strip with Tropicana Ave the busiest road intersection in the USA. There are foot bridges connecting the MGM with the Tropicana, New York New York and Excalibur. There is also a Las Vegas monorail station connecting MGM with the rest of the East side of the strip, this will be extended to the airport but that is a few years away.

Theme Supposedly Hollywood glamour, other than the big lion at the entrance there is nothing that noticeably sets it aside from any other casino. The first time I went to Vegas they had an Emerald city/yellow brick road theme as you entered with the characters from the movie (minus Toto who had been stolen).With thunder and lightning and all, this was pretty cool but that has gone and been replaced with a smarter more serious image.

Rooms MGM has two basic classes of rooms Grand Tower and West Wing, Grand tower can come with one or two
beds and have loads of space, they have nice bathrooms and toiletries and all have a sofa and desk these are some of the largest standard rooms in Las Vegas, the West wing rooms are contempory and modern but smaller and darker and the bathroom is sort of integrated into the room, you have only a shower not a bather and you can only get these with one bed. MGM has a number of suite options but there are only really three that I can afford, Bungalow, Celebrity Spa and Hollywood,. A bungalow suite is a big room with a large seating area, a Celebrity Spa Suite is a Bungalow suite with a large bathroom with a spa in it and a Hollywood Suite a two rooms suite with a large bathroom. All of these are nice suites and contrary to belief most are available on most floors so you are no more likely to get a good view because you are in a suite than a room, also be aware that your room will not be assigned until check in so you may not get the suite that you have booked.

Attractions MGM used to have the best theme park on the Strip but sadly this has been removed and replaced with high roller accommodation. The loss of the theme park aside MGM still boasts some great attractions; the lion's habitat where you can see lions and cubs paraded in a glass "habitat" and a state of the art amusement arcade which has all the latest video offerings as well as some stunning virtual reality games. MGM has screening rooms for upcoming TV shows you get free tickets and you watch shows yet to be aired and give you opinion this happens every day and is totally free of charge. I think it also fair to include the rainforest cafe as an attraction as it is so much more than just somwhere to eat.

Pool The MGM Grand pool complex is fantastic, you guess that when as you enter you are offered a Map! There are 5 pools, various spa baths and an amazing Lazy River MGM opens at least one pool every day of the year.
Shows and Entertainment There are currently two shows at The MGM Cirque de Soleil's KA. The Hollywood theatre is used to host headliners it was Tom Jones on our last visit David
Copperfield is there as I type. The MGM Grand Garden Arena is one of the biggest venues in Vegas and is used for concerts and boxing. MGM has a greatd selection of good bars if you wanted to you need not go anywhere else for your entertainment. MGM is also home to MGM GRand Arena this is one of the premier venues in Las Vegas it plays host to the biggest boxing events in the US such as Ricky Hatton, De La Hoya and Mayweather and holds concerts such as Maddonna, Billy Joel and Britney. MGM I feel also has the best selection of non Ultra lounges and the best bars on the Strip its great for relaxing drinks in a non club enviroment.

Dining MGM is great for dining , the Grand Buffet (B$13.99, $15.49 D$25.99 and Champagne Brunch $20.48 or $18.99 without the champagne) this is a good buffet its not a contender for the best buffet crown but its good and good value, be warned that the queues can be long and the "champagne" on the brunch is not that hot but for $2.50 unlimited who can complain ! There is a good food court for quick eating including, Nathan's Hotdogs, a pizza place and Haagen Daz's. The 24hr coffee shop is big and can take a while for food to be served and sometimes is not as hot as it should be. The rainforest café is a good bet for younger diners with animated robot animals and thunder storms. MGM has 8 offerings in the fine dining class Nob Hill, Pearl, Joel Robuchan, L'Atelier, Craftsteak, Fiamma, Sea Blue and Fiamma. There are 4 casual restaurants the very good Wolfgand Puck café, The grand Wok, Emeril's and The Grand Wok. The MGM also has the obligatory 24 hour Starbucks.


Gaming171,500 sq ft WOW its big its very big contains nearly 4000 slot machines over 100 tables and 17 roulette wheels table minimums start at the usual Strip rate of $10 but these can be few and far between in busy periods. Some of this gaming space has been give to a Sports book and poker room. There are several huge sections of penny and nickel machines but they tend to be away from the main sections of the casino and you feel like you are hidden from main view. The most annoying thing about this casino floor is that it is so big you get lost you must at all times follow the signs hanging form the roof and even then its still easy to get lost and disorientated. The size of the casino does work in its favour as well though even in busy times if you wander around for long enough you can usually find a quieter area.
Drinks service As a nickel player I would say that the drink service sucks. They just don't want to give you anything, when I moved on to quarter machines it was better but only marginally. I think that this is in part to do with the size of the casino because even once you have managed to place your order you can wait another 30 minutes for the drink to arrive. This is not the place to come to if you want to get loaded, Note this seemed to have improved last visit.

Overall A huge lively resort with everything under one roof, nice big rooms in a great location and great rates can be found when they run offers.

Good points The location is great, the pool is great the dining options probably the best on the Strip. Unlike many other resorts they seem to have got the timing right for the check in you don't seem to have to wait too long and the beds are the most comftable in Las Vegas if not the world.

Bad points It gets crowded really crowded even walking through the Casino at peak times is a mission. Like every other resort they assign rooms at check in, this can mean that you do not get what you think that you have booked, your suite, bed or smoking option may not be available and you may be assigned something else.
Top Tip Check in at the airport whilst waiting for your luggage this saves time when you get to the resort. Do not take up on the offer of an "upgrade" to a West Wing room they are smaller and miles away from anywhere stick with the Grand Tower.