Flamingo Hilton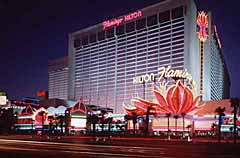 3555 Las Vegas Boulevard South
Las Vegas
NV 89109
+1 (702) 733 3111
www.lv-flamingo.com
Location Dead centre of the Strip facing Caesars Palace - no moving pavements needed here as the Flamingo's doors open straight onto the Strips sidewalk.
Theme If it has one it's lost on me. There are lots of bright colours particularly pink but a fair amount of orange and yellow too. There is neon, stacks and stacks of neon, so bright you can see it for miles away and so intense that it makes a difference to the air temperature underneath it. If it is meant to have a theme I guess its theme is Vegas. This is the oldest surviving Strip resort originally opened by gangster Benjamin "Bugsy" Siegel in 1946 with other mobster's money. Bugsy went well over budget and made losses in the first year thus having to close the unfinished resort from January until March 1947. He was repaid for his great vision with two bullets to the head in June that year. Without his vision and his guts it is doubtful that the Strip or Las Vegas would be what it is today.
Attractions The 15-acre "Garden of Eden" has lush palm trees; pools and jungle vegetation there is also a wildlife sanctuary featuring African Penguins and you guessed it Flamingos. There is also a video arcade for those who have more frantic pleasure needs.
Pool The pool is one of the best in town its a lagoon with palm trees and other tropical plants and waterslides, it has an area for "European" sunbathing.
Shows and Entertainment For some years Toni Braxton has been the headline act at the Flamingo but she has not been too well
recently. Donnie and Marie Osmond of The Osmond fame have signed a 26 week stint at the Flamingo starting in September 2008. George Wallace a comedian currently performs at the Flamingo as doe's funny magician Nathan Blake. The Flamingo has an adult's only sexy review called X Burlesque. There is talk that Harrahs will shortly be signing some huge names so watch this space.
Dining The Paradise Garden buffet (Brunch £13.99, Dinner $18.99, Sunday Brunch $15.95 with champagne) has a lovely setting looking over Flamingo Island. Friday offers the Seafood Dinner Buffet for $9.95 which is pretty good if you like seafood, if not avoid. It is good value, when we visited the selection was not enormous though we have heard that this has improved. Bugsy's Delhi for sandwiches. Conrad's – for steak and seafood, one of the best in town but expensive. There is also Chinese that is not bad but there are better ones on the Strip. Margaritaville is one of the best value, fun restaurants on the Strip, it has a Caribbean flavor and possibly the best nachos in the World, only get them to share or your wont eat your main course.
Gaming 77,000 sq ft of gaming space, so yes big but it does not feel big, the low ceilings make it feel smaller and more cramped than it really is. It is noisy and appears to have some parts quite crowded and others very empty. Because the doors open straight onto the Strip you quite often get natural light flashing on for a second and real air moving near the doors. There are nearly 2000 slots here, about 70 tables and 4 roulette wheels. At times the table minimums are as low as $5 but that is not too often, maybe the credit crunch will change this who knows ?
Drinks service Fair. Not good, not bad just enough to keep you here but not good enough to get loaded
Overall Loud and bright is the statement that this casino throws out but it all ends at the doors. Once inside, yes it is noisy but does not seem as frantic as some and appears to be very safe and, well, sort of middle of the road.
Good points The feeling that this is one of the firsts, that you are in Las Vegas history and that you don't have to stray far from the Strip to visit.
Bad points The casino can be hellishly noisy; up to headache levels.
Top Tip I know I have mentioned it but get Nachos at Margaritaville just make sure you share them.